Saint-Médard-de-Guizières


Lussac-Saint-Emilion 4,80 ha
Bordeaux Rosé 1 ha
White Bordeaux 
Crémant de Bordeaux
Bordeaux Superior White
2,40 ha

Bordeaux Supérieur,
Château Les Gravières of the Brandille
Château Les Gravières of the Brandille cuvée prestige   32,6Ha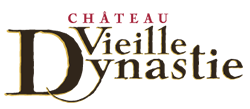 Lalande de Pomerol,
Château Vieille Dynastie 6,20 ha
Jean-Pierre and Odile BORDERIE, members of the order of the vine growers of Bordeaux and Bordeaux Supérieur, took again in 1983 the Domain, with
15 hectares.
They expanded the property up to 38 hectares in the 2000s.
After studies in oenology, the cultivation of the vine, the trade
and tasting in different vineyards of France (Saint-Emilion, Val de
Loire, Rhône Valley), Frédéric worked abroad (Australia, Napa Valley).
Frédéric settled in 2005, with the acquisition of parcels on Lussac.
In 2011, the Château Vieille Dynasty, 6.15 hectares in Lalande-de
Pomerol enters the family domain.
The family estate is located in the municipality of Saint-Médard-de-Guizières, bordering the appellations of Saint-Emilion, the culture of the vine is historically very related to its illustrious neighbor.
The soils are of sedimentary origin, with clays, gravel (Lalande-de-Pomerol) and silts
in the valley. On the highest points of the Saint-Emilionnais, the soil is clay-limestone exclusively. Address
119 Rue de la République,
33230 Saint-Médard-de-Guizières
Vignobles Borderie
119 Rue de la République,
33230 Saint-Médard-de-Guizières
Subscribe to our newsletter
Receive all our news
and information about our news!